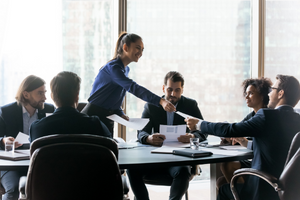 Employee benefits compliance is a major concern for all organizations, with full compliance with a range of laws including ERISA, HIPAA, and COBRA, and the possibility of fines for noncompliance weighing on operations at all times.
The U.S. Department of Labor has recently been given long-term funding for divisions such as the Employee Benefits Security Administration (EBSA) to carry out more audits, and all companies need to be prepared to prove their compliance with regulations or pay steep fines.
Audits are one of the main methods used by EBSA to ensure the integrity and security of private employee benefits plans. Health plans are typically audited without much notice, and there is nothing organizations can do once they have been targeted. Should the audit uncover any violations, they could be responsible for penalties or reprocessing claims. Penalties can cost hundreds of dollars per day for each employee and violation, which means noncompliance could prove to be a very expensive mistake to make.
Having a team of experts on your side to ensure compliance in advance of an audit can prove valuable, potentially saving you thousands or millions of dollars as well as time. These audits can take months or even years to resolve, so it is essential to take steps to ensure full compliance.
How eBen Can Help
Your organization could be targeted for an audit due to:
Errors or omissions in Form 5500 filings
Referrals from other agencies, such as the IRS
Complaints by participants
Our team of benefits compliance specialists is well-versed in the constantly evolving regulatory landscape and is prepared to help your organization ensure full adherence.
We can support your organization in USDOL benefit compliance by:
Identifying potential challenge areas
Preparing compliance reviews
Helping fulfill disclosure and notice requirements
Keeping organizations updated on important compliance deadlines and changes
Providing tools for education on health and welfare plan compliance
Monitoring relevant regulations and statutes at the local, state, and federal level
Preparing form 5500, Summary Plan Descriptions, and Summary Annual Reports for your health and welfare plans
Developing and presenting workshops and seminars
Facilitating the on-site review and interview aspects of audits
Preparing responses to the extensive documentation requirements
Contact the Compliance Specialists at eBen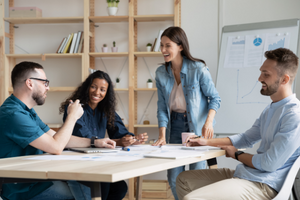 eBen can help your organization stay on top of the ever-evolving health benefits landscape, auditing your plans to identify any potential compliance-related issues and offering recommendations to ensure you do not run afoul of any legislation.
Our compliance team stands by our advice, offering indemnification protection to our clients who follow our recommendations. We strive to simplify complex concepts and requirements to provide a smoother experience for clients, while our connections with policymakers enable us to anticipate what is coming next and ensure you are prepared for it.
Whether you need a consultant who can answer your questions or full human resources support, the professionals at eBen are here to help. With more than two decades of experience, we are prepared to solve a range of USDOL and other benefit compliance concerns. Contact us today to discuss your options or to schedule an appointment.
---
A USDOL Benefit Compliance Audit is an important process that helps ensure employers are following the Department of Labor's (DOL) regulations for employee benefits. By conducting a compliance audit, businesses can identify potential areas of non-compliance and take corrective action to bring their benefit programs into compliance. Benefits experts can help businesses conduct a USDOL Benefit Compliance Audit and achieve compliance with DOL regulations while avoiding the costly penalties of non-compliance.
How eBen Can Help You Achieve Compliance
When it comes to complex employee benefits compliance issues, experts can be a huge help. Our team can provide advice on what policies and procedures need to be in place in order to meet compliance standards and can help steer your company in the right direction if you find yourself facing penalties or fines. Additionally, our team of benefits compliance experts can help keep your company up to date on any changes or updates to the laws and regulations governing employee benefits. This will enable you to stay ahead of the curve and maintain a seamless and compliant benefits program.
We assist clients with preparing the approximately 1200-page response to the five-page list of the required information, data, and notices. We also facilitate both the on-site review and interview aspects of the audit. The typical penalties for failure to comply with these regulations can result in fines of up to $100 per day, per employee violation. These penalties can add up to significant losses, which makes achieving timely compliance very important.
What To Expect From a USDOL Audit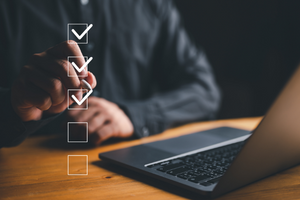 When a company is selected for a USDOL benefits compliance audit, it can be a daunting experience. However, with the help of experienced employee benefits experts, it is much easier to successfully navigate the audit and achieve compliance.
Generally, a USDOL benefits compliance audit will involve an examination of the company's employee benefit plans and programs. The auditor will review plan documents, summary plan descriptions, and other materials related to the administration of the plans. The auditor will also meet with key personnel to discuss the plans and how they are administered.
One of the key objectives of a USDOL benefits compliance audit is to ensure that employees are being offered appropriate benefits under the law. In particular, the auditor will look for violations such as discrimination in benefit offerings, failure to provide required notices, and improper use of funds.
A successful audit generally requires cooperation from company management and timely responses to requests for information from the auditor. With the help of experienced professionals, however, most organizations can successfully navigate a USDOL benefits compliance audit and achieve compliance.
Get The Assistance You Need To Maintain Compliance
At eBen, we take pride in helping our clients identify the most critical challenges they face regarding their benefits plans. Our main services include:
Creation of in-depth compliance reviews
Assessing unique compliance requirements
Monitoring the latest federal regulation updates
On-site and interview audit preparation
No matter what your situation is, our team is here to help. For more information on how we can help you maintain long-term compliance, reach out to our team of experts today at 910-518-9338 or reach out to us directly by submitting a form.