At eBen, our core business is benefits – and helping employers with offering health benefits is at the heart of our work. We bring our expertise, experience and passion to helping our clients throughout the entire process, from understanding the variety of ways to finance employee health benefits to fielding multiple proposals from carriers and ultimately helping them choose the one that is the best fit for their budget and goals.
Strategy: Analyzing Your Long-Term Goals
Using participant data, our consultants develop an overall strategy to achieve long-term benefits goals and priorities. Our recommendations are shaped by our deeper understanding of you and your employees.
Design: Structuring Your Employee Benefit Plans
Through data analysis and benchmarking, we optimize your annual renewal experience by identifying cost-effective solutions to accomplish your overall strategic goals. We leverage our position in the marketplace to negotiate optimal, cost-controlled plan designs.
When it comes to designing an annual employee benefits strategy and executing every component, details matter. But so does the big picture. Our Plan Management process attends to the daily and annual requirements of your benefits program while maintaining a focus on the horizon. Our approach to benefits management delivers an immediate and ongoing positive impact on your organization and employees, allowing for data-driven refinements along the way.
Execution: Day-to-Day Benefit Management
We relieve administrative burdens, simplifying the entire benefits process by developing a customized Annual Business Plan. Our team of account managers, specialists and underwriters execute the deliverables within this business plan to ensure administrative efficiencies, increased regulatory compliance, and mitigation of risk exposures. We assist plan participants to get the most out of their benefits, providing education and personal support that helps them make informed decisions and properly enroll in and use their plans.
We often recommend our own benefit admin system once you establish the health benefits you want for your company. Our administrative solutions are a great way to integrate all of your employee benefits into a single, easy-to-use online system that can be readily accessed from any online device.
You can even merge benefit programs from multiple insurance carriers and service providers into our administrative online portal. This makes the enrollment process for employees who desire group health benefits easy and helps keep important information secure and organized for administrators.
What Are Group Health Benefits?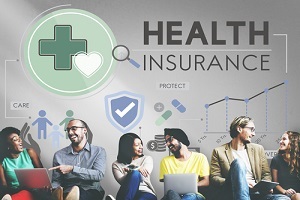 Group health benefits refer to employer-sponsored health benefits that are available to all eligible employees who enroll in the plan. As opposed to an individual health insurance plan, which only provides coverage to the individual, a group plan covers your employees and their dependents on the same policy. These plans will include coverage for medical and pharmacy benefits with a broad range of networks and options for deductibles, copays, and out-of-pocket maximums.
What Group Health Benefits Services Does eBen Provide?
eBen offers consulting, brokerage, and administrative services for companies that are interested in adding, changing, and/or expanding group health benefits coverage options for their employees.
Consulting And Brokerage Services
As employee benefits specialists, we provide innovative tools, resources, and expertise to drive results for employers. Value-added specialties extend beyond our core focus to offer clients access to a comprehensive suite of insurance solutions.
Why Choose eBen For Group Health Benefits
eBen has more than twenty years of experience with group health consulting and brokerage services for companies throughout the United States. We have joined with other industry leaders and formed strategic partnerships with insurance carriers and other service providers to ensure we are able to provide the best service possible and get the best deal for our clients.
The key to our success is in building relationships. We take the time to get to know our clients, whereas many of our competitors take a one size fits all approach. It is our genuine interest to help the employers we work with thrive and take the complexities that are often involved with group health plans and make them simple.
We do this through our consulting services to ensure your plan fits your needs, brokerage services to ensure you find the carrier that is right for you, and administrative solutions to ensure that you have an easy enrollment process for your employees and an easy management process for yourself, other employers, and administrators.
For the day-to-day issues that arise, our team takes the workload from you and handles billing, enrollment, and claim questions directly with your employees. Our clients consider us the best part-time employee they've ever had!
Get Your Group Health Benefits Coverage Started With eBen
We are here to assist you throughout the entire process, from determining your needs to the implementation of your new benefits program. To learn more about the comprehensive set of services that we offer for our clients, contact us by phone or message today.