Group Vision Benefits from eBen starts with strategic planning about your employees' needs and finding a provider that fits your company's goals and objectives. Whether you are looking to start your company's employee benefits program or extend your coverage by adding group vision, our consultants at eBen can assist you.
When Should My Company Consider Group Vision Benefits?
Good vision care is an integral part of overall health and wellness, and group vision benefits are one of the more affordable types of coverage options that a company can offer as part of a comprehensive employee benefits program. Every company should assess how vision benefits can best serve them, and we can help you determine if a plan is right for you during an initial call.
Vision insurance has become one the most requested benefits from employees and their dependents. Eye health is closely tied to how we live, work, and play and can frequently result in early diagnosis of other medical conditions.
What Are Group Vision Benefits With eBen?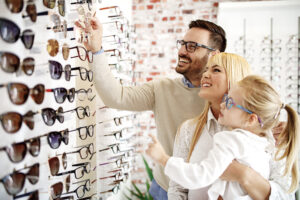 Group Vision Benefits provides employees with vision services at a more affordable rate than they could otherwise obtain with an individual insurance policy or by paying out of pocket for exams, glasses and contacts. The coverage options for group vision insurance may vary based upon your company's preference for coverage and the insurance carrier you choose. However, common services that are covered by group vision benefits include:
Eye exams
Contact lenses
Prescription eyeglasses (frames and lenses)
Progressive lenses
Discount on LASIK services
When you choose to work with eBen, we make certain you receive the right benefits without paying for unnecessary coverage options, keeping premiums, costs, and benefits in balance.
Get A Fresh Perspective on your Company's Benefits Policy
You can get the process toward employer-sponsored vision benefits started with a consultation call with an eBen representative. We'll bring a fresh view in determining which group vision plan is most beneficial in supporting your company's goals and objectives.