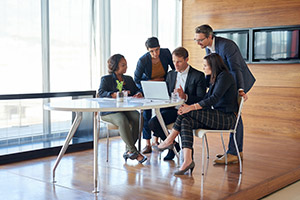 Today's workplaces are a diverse blend of five unique generations, each with distinctive values, expectations, and needs. Understanding and addressing these varied requirements can help businesses craft an inclusive and effective employee benefits package, boosting satisfaction, engagement, and overall well-being.
Demographics of the Modern Workforce
The current workforce's generational distribution in the US is, approximately, as follows:
| Generation | Birth Years | Workforce Percentage |
| --- | --- | --- |
| Traditionalists | Born Before 1945 | 2% |
| Baby Boomers | 1946 – 1964 | 25% |
| Gen X | 1965 – 1980 | 33% |
| Millennials | 1981 – 2000 | 35% |
| Gen Z | 2001 – 2020 | 5% |
Building a Comprehensive Benefits Strategy
Crafting an effective benefits strategy for a diverse workforce requires a nuanced understanding of the varying needs within your team. It's essential to recognize that employee needs can range widely and aren't solely determined by age or generational group. Considerations may include financial security, work-life balance, healthcare needs, career development, and retirement planning.
While it can be beneficial to consider generational trends when designing a benefits package, it's important to approach this as a guideline rather than a rule. Not all individuals within a generation will share the same preferences or priorities. Thus, creating a flexible and comprehensive benefits strategy is key.
A comprehensive benefits strategy may include:
Flexible Schedules:

Many employees value balancing work with personal life, which can be aided by flexible scheduling options.

Recognition and Advancement:

Recognizing employee milestones, providing growth opportunities, and granting fair promotions can boost morale and job satisfaction.

Health and Wellness:

Providing robust health benefits, including dental and long-term care insurance, can contribute significantly to employee well-being.

Retirement Plans:

Retirement benefits such as 401(k) matching can be a critical consideration for employees at all stages of their careers.

Paid Leave:

Offering paid and unpaid leave options shows understanding and respect for your employees' time and personal needs.

Workplace Culture:

Encouraging a positive, inclusive work culture where employees feel respected and valued is crucial.

Communication:

With the influence of technology on communication preferences, offering a variety of channels for dialogue can enhance engagement.
With these considerations in mind, let's dive into steps to optimize your benefits package. 
1. Establish a Budget
To start, assess your budget carefully. Understanding your financial landscape is crucial in determining the feasibility of various benefits options. Remember that an employee benefits package isn't a one-size-fits-all solution; it requires thoughtful resource allocation. By investing wisely, you can provide significant value to your employees while still maintaining fiscal responsibility.
3. Solicit Employee Feedback
A successful benefits package addresses the needs and desires of your employees. Encourage their participation in the benefits design process by utilizing tools such as surveys or focus groups. This helps you understand their preferences better and fosters a sense of engagement and inclusivity. Involving employees in decision-making can lead to more tailored benefits and higher satisfaction.
4. Prioritize Flexibility and Adaptability
In the dynamic world of business, adaptability is a crucial trait. Design a flexible benefits package that can evolve with changing circumstances and needs. This could mean offering a variety of benefits options or allowing for alterations to benefits plans as employees move through different stages of their lives. The ability to adapt your benefits offerings based on feedback and external factors will contribute to its sustainability and success in the long term.
5. Enhance Communication and Accessibility
Transparency is key in any organization. Ensure that information about the benefits package is clearly communicated and easily accessible. This could involve the use of digital platforms, printed materials, or regular informational meetings. Encourage an open dialogue where employees feel comfortable raising questions or concerns. A supportive environment and clear communication lines can help employees fully understand and utilize their benefits.
6. Monitor and Evaluate
It's important to monitor the effectiveness of your benefits package continually. Regularly solicit employee feedback, and use this to evaluate the impact of the benefits on employee satisfaction, engagement, and retention. This feedback can also guide necessary adjustments to ensure the benefits package remains relevant, beneficial, and appreciated by your team. Always strive for improvement, as today's best benefits package might not be the best tomorrow.
Empowering Your Multi-Generational Workforce 
Creating a benefits package catering to a diverse workforce can be complex, but you don't have to navigate this alone. eBen specializes in customized benefits solutions that prioritize employee well-being and organizational success.
Speak with an expert to learn more about tailoring an inclusive benefits package for your multi-generational workforce. Discover how we can help you today. For more insights on employee benefits, check out other helpful insights here.